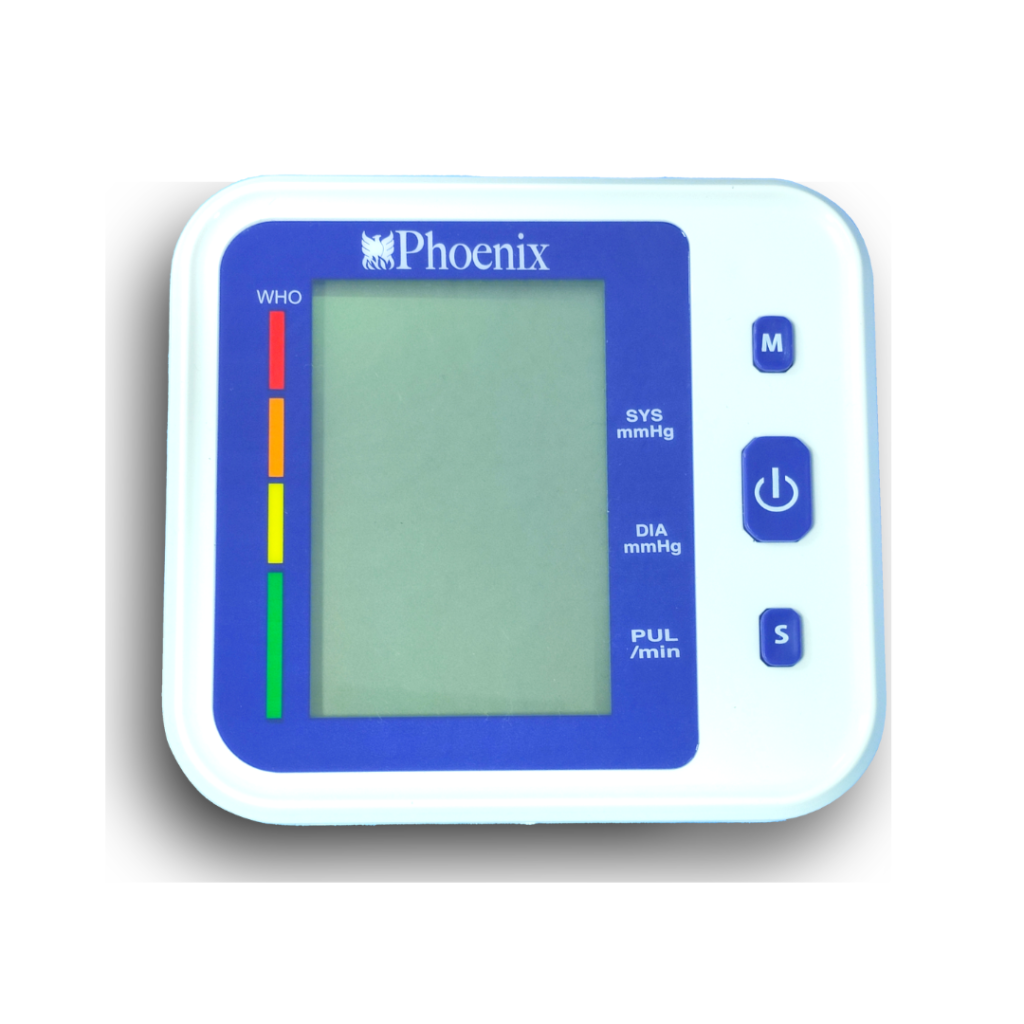 Blood Pressure Monitor with USB 03
Phoenix Digital Blood Pressure Monitor with USB port is a fully automated non-invasive device that provides results quickly and monitors systolic and diastolic blood pressure, and pulse rate easily and precisely in a clinical and home environment.
Compact, lightweight, portable medical device with hypoallergenic BP cuff for better arm grip
Large LCD display, USB port, auto-off function with 2 memory groups each with 99 reading value
Display shows systolic and diastolic blood pressure, pulse rate, date and time, user interface, battery, BP indicator, memory reading, heartbeat with error, and low battery indicators
Easy to use, clean, disinfect and store to enhance personal care and helps maintain a healthy lifestyle
An Instrument used to measure blood pressure for early diagnosis or to track your treatment for covid 19, hyper tension treatment, high and low blood pressure treatment, vitamin deficiencies, low iron levels (anaemia), hypoglycemia, diabetes, pregnancy, high cholesterol
To evaluate the blood pressure level and pulse rate of patients during obstructive sleep apnea, deep sleep, surgical procedures that require sedation, under anaesthesia, or on the ventilator
Use full to detect blood pressure and irregular or abnormal heartbeats in premature birth, low birth weight, and cardiovascular conditions in infants and children
Encourage better blood pressure management with proper diet, medication, and exercise
Home BP monitor to keep a check in physical exertion, emotional fluctuations, overweight, medications, high intake taking drugs and alcohols, multisystem trauma, and stress
At home, work, hospital, gym, covid centres, and other medical places
Convenient to have while camping or travelling by train, bus, air, or car to maintain healthcare
Suitable for all age groups and best for elderly people
Rest for at least 5 minutes before taking your measurement
Put the blood pressure cuff above the elbow at mid-arm to make sure the arm is bare
Keep the distance between the elbow and cuff should be 2-3 cm (1 inch)
Put the air hose connector into the air hose socket
Keep arm at heart level and muscles relaxed and support your back and feet and be relaxed and still
Turn on the power button on the monitor you will see a "P" and mild to moderate vibration will take place which inflate blood pressure cuff slowly
After a few seconds result will be displayed on-screen note down your reading to keep a record of BP management
Press the "S" button on the device to select the memory group from 2 groups
On the selection of the memory group press "M" on the device to see the previous reading from that Memory group from the last 99 readings.
The monitor will automatically shut down after showing a value for about 10 seconds.
The BP monitor gets auto power-off after 150 seconds is no use.
If you are not using batteries, then you can use them on a USB power port.
While using the BP monitor with USB port insert the USB cord with the plug and then insert the power plug into a power outlet and turn the power button on.
Brand Name: Phoenix Blood Pressure Monitor with USB
Model Number: BP-03
Application: Non-Invasive Upper Arm Blood Pressure Monitor with Pulse Rate Notification
Classification: Internal and External Powered, BF Type Product
Warranty: 24 Months
Certification: ISO 9001, ISO 13485
Technology: Oscillation Principle and Automatic Comfort Inflation Technology
Material: Plastic (ABS), Nylon, SS, Electronics Components
Colour: White and Blue (customised)
Dimension: H 120 x L 112 x W 60 mm
Display: LCD (H 75 x L 50 mm)
Weight: 0.270 kg (with batteries)
Memory Group: 2 Groups x 99 Values with Time and Date
Automatic Off Time: 1 Minute
Measure Blood Pressure Range:

Systolic: 60 to 260 mmHg
Diastolic: 40 to 199 mmHg

Measure Pulse Range: 40 to 180 Beats/Mins
Operating Conditions:

Working/Operating Range: 10°C to 40°C
Storage Temperature Range: -20°C to 50°C

Power Supply Mode: 1.5 v, 4 Batteries (Removable/Replaceable AAA Alkaline Batteries) or USB Charging Port
Accessories: 1 Blood Pressure Monitor, 1 Handcuff, 4 AAA Batteries, 1 Instruction Manual
OEM/ODM/Private Label: Available with Personalised Logo